BEER + Wine TASTINGS THIS WEEK. 04.13.20
Hey friends!  We are continuing with virtual tastings this week.  I'm looking forward to trying these new-to-us beers and wines.  We will do the beer tasting on Tuesday April 14, 2020 at 5pm on FB Live and the wine tasting on Thursday April 16, 2020 at 5pm - also on FB Live. If you are local and want to join us we are doing curbside delivery daily from 9am to 9pm.  The trio of beers will be $9.  The trio of wines will be $21. Just text me at 816-878-2278 and we will get you set up.
NOTES FROM BREWERS:
New Belgium The Hemperor HPA.  Yall know I'm an IPA nerd so I was excited to try this one with you!!  
The brewers at New Belgium have created a new style of IPA: The Hemperor HPA. With the popularity of hoppy beers, our brewers are always on the lookout for different hop varieties and the complexities and flavors new strains can bring. That's where hemp comes into the picture. Without getting too nerdy, we found a unique way to recreate hemp terpene flavors in a beer, which complement the inclusion of hop flavors and hemp hearts (seeds) in a brand new, delicious way—not to mention this beer is extremely dank! The flavors and aromas are so unique that it's a style unto itself, hence HPA®. Via Newbelgium.com
Also from New Belgium is the Honey Orange Tripel.  I have no idea what to expect from this one.  Tripels traditionally originate from Trappist Monks in Belgium and I'm a sucker for trappist beers: For this recipe, our brewers drew inspiration from Belgian Golden Strong Ale, a style we love. We sought out the very best ingredients, sourcing wild honey from the African Bronze Honey Company, a member of the Fair Trade Federation and a certified B-Corp. The Seville orange peel is freshly ground 24 hours prior to the day we brew by the Old Town Spice Shop, less than one mile from our Fort Collins, Colorado, brewery. In the end, we created a big, sweet and citrusy Belgian-style Tripel with thoughtfully sourced ingredients. Via Newbelgium.com
The third beer is the Sixth Glass from Boulevard Brewery.  We have had this one before but it's a goodie and it's been a while.  I'm happy we have it back in stock: Our quadrupel ale, also meant for the mature connoisseur, is a deep and mysterious libation, dark auburn and full-bodied, its sweetness deceptive. As Ole describes the glasses in turn, their contents become more ominous until, in the sixth glass... Via Boulevard.com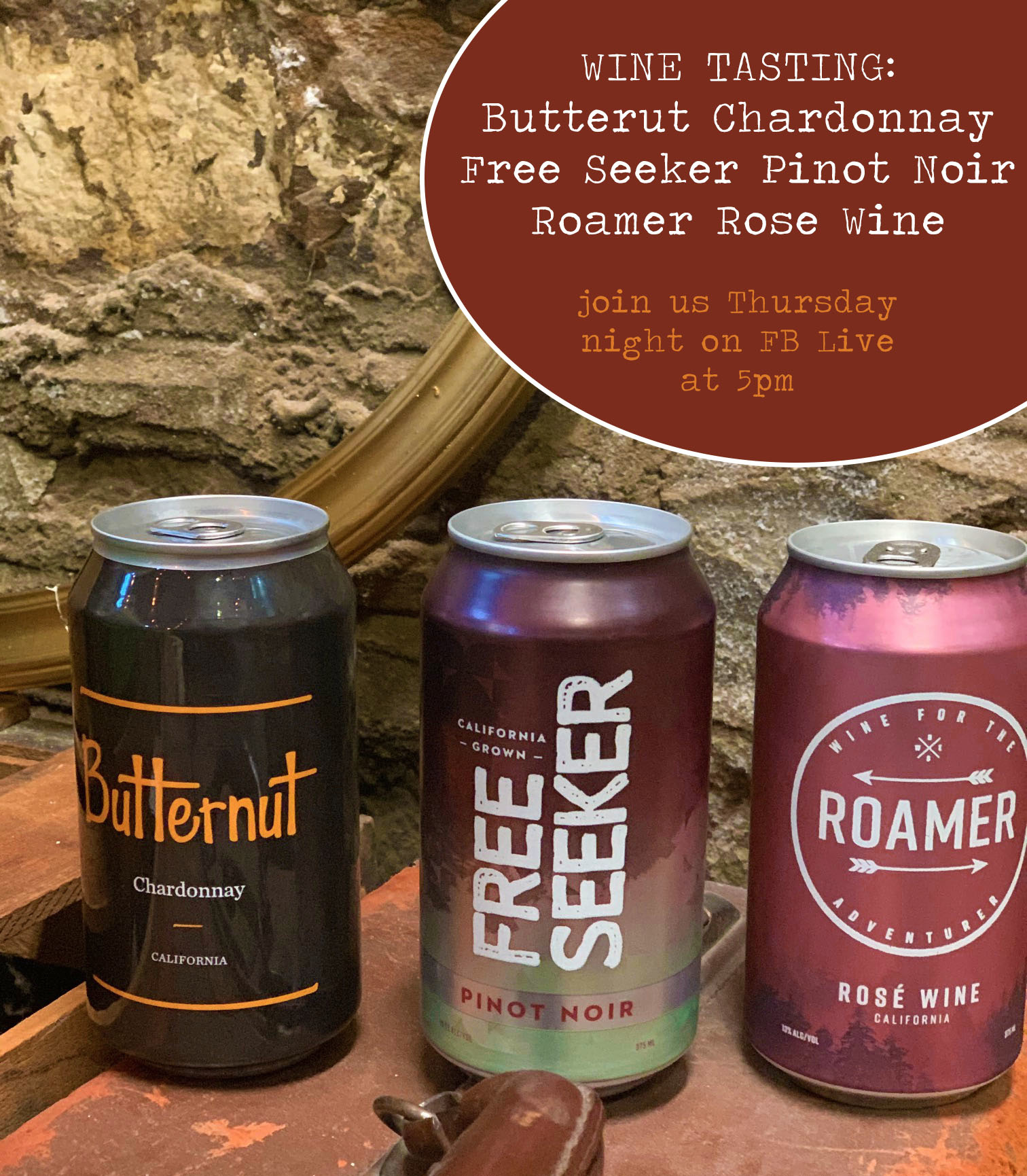 On Thursday night we will do wines.  I genuinely bought the second two based solely on the names of the wine companies.  They are perfect.
Butternut Chardonnay: Aromas of peach, hazelnut and spiced candied apple breeze around the brim. Round, creamy notes of fig, butterscotch and sweet oak dance on the palate.
FREE SEEKER Pinot Noir: I can't find this website anywhere?? Super weird.  We will create our own notes on Thursday night.
ROAMER Rose is a private label wine from 7-eleven. Yes, the gas station 7-eleven.  Okie, you learn something new every day, I had no idea that this was a 7-eleven creation when I ordered it : The Syrah-based rosé is a dry, fruit-driven wine with hints of strawberry and raspberry.